The next edition of the ECOBEST Challenge is scheduled to take place this autumn in Bologna, Italy;
The new Think Tank named `The Future is Here`, led by the legendary Frank Stephenson, has been officially launched;
The AUTOBEST Gala 2023 is set to take place in Nederland, at a date to be announced later.
The 21st edition of the AUTOBEST Gala Awards took place yesterday, 9th June, in Kirrwiller, a small village near Strasbourg, France, in the Royal Palace. One of the best-known Music-Halls in Europe, the impressive Royal Palace is ranking top 3 French cabarets, sharing the podium with Lido and Moulin Rouge.
Dan Vardie, Founder and Chairman of AUTOBEST said: `This year we achieved a new milestone event concept. We pioneered the `Surprise Gala` scenario, when nobody knew where the Gala is… We also conceived a fusion between the French cabaret and AUTOBEST Awards Gala. The result is a unique show, a multicultural, multisensorial experience we named `AUTOBEST Cabaret`. We are known for having every year a unique scenario for our Gala's. But this year we went much deeper into our tradition. This was thanks to the incredible cooperation we had with our friends in Palais Royal.`
On stage, receiving the supreme European accolade, Best Buy Car of Europe, for the 100% electric Dacia Spring, Denis Le Vot, CEO of Dacia Brand said: "Since its launch, Dacia Spring is a huge success. We would like to thank the AUTOBEST for this 2022 Best Buy Car of Europe Award, which confirms the appetite our clients have for our models. Dacia Spring is making electric vehicles accessible to all with its unbeatable price and its attractive, adventurous look . In short, with Spring, Dacia democratises the electric mobility."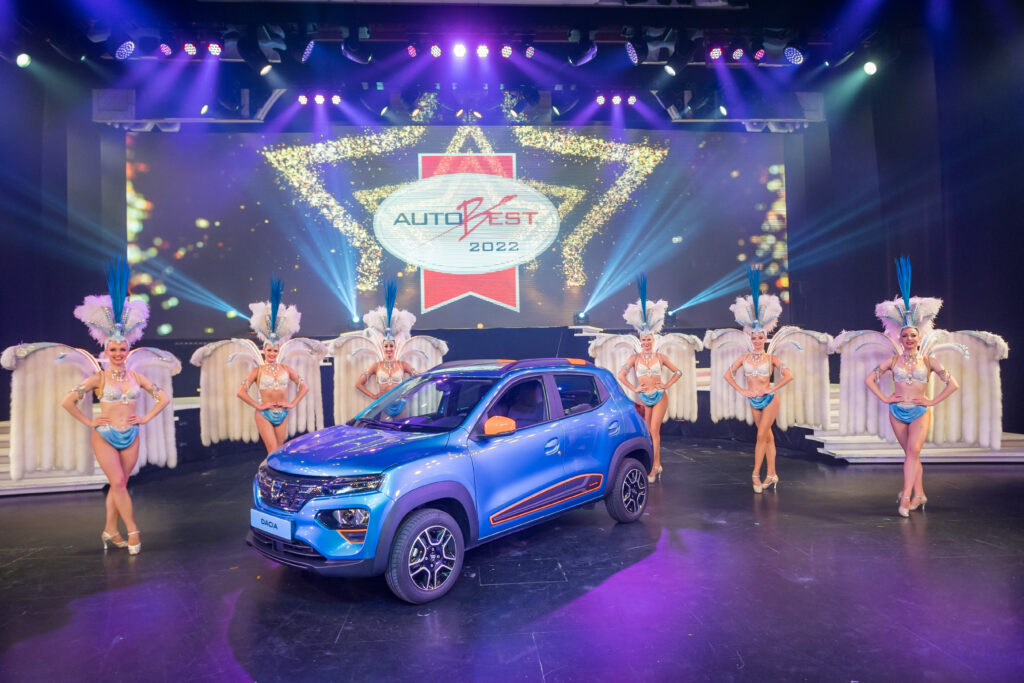 During the Gala, AUTOBEST organization announced the plan to develop ECOBEST Challenge project. After last year highly successful edition, this year will take place in Bologna, Italy in autumn, having more measurements on more popular European EV's with the aim to deliver more meaningful, essential, unbiased assessments to the European consumers.
AUTOBEST also announced the start of the new Think Tank named `The Future is Here` led by the legendary Frank Stephenson, a proud member of DESIGNBEST Hall of Fame. This is a new global initiative to scrutinise the future of mobility as it is seen in concept cars. The members of the Think Tank started already to analyse the latest concepts and to evaluate how much of these are really coming with meaningful, realistic, useful and sustainable technologies, materials, design and production proposals. The best concept car from this multi-perspective will win `The Future is Here` globally unique award. This is a part of a new line of awards – next to `A Star is born` prize- which are not directly related the usual awards delivered during the AUTOBEST Gala.
The other prizes that were awarded during the ceremony were:
MANBEST 2022: Mate Rimac
Mr. Mate Rimac, Founder of the Rimac Group, said: "Thank you to Autobest jury of experts for this award. It's a real honor to be inducted into a Hall of Fame that includes some of the most impressive automotive industry figures of recent history. But I can't take all the credit for the success of the Rimac Group. We now have 1,500 people working across eight locations in Europe, helping to develop the future of Bugatti Rimac as well as the advanced batteries, motors, inverters and software that will help drive the electrified performance cars of the future. And there's plenty more to come from the Rimac Group, too."
ECOBEST 2022: Renault Megane E-Tech
Mr. Jean-Paul Drai, Chief Vehicle Engineer C-Segment Electric Vehicles declared: "We are thrilled to receive the Ecobest award with Megane E-Tech electric. It is first vehicle of the Renaulution and embodies our re-conquest of the C-segment for Renault. Our innovative CMF-EV platform brings new technologies, giving Megane unique driving pleasure, state-of-the-art connectivity with Google Automotive Services in addition to the great roominess of its interior. Thanks to our EV expertise and leadership in Europe, Megane joins a strong lineup made of Twingo E-Tech Electric and the best-seller ZOE. Megane received a warm welcome from our customers as we already registered more than 15 000 firm orders."
SAFETYBEST 2022: Isuzu D-Max
Mr. Mitsuaki Hoshino, Managing Director, CEO of Isuzu Motors International Operations (Europe) GmbH declared:" On behalf of Isuzu and everyone working for our D-MAX, I am honored to express our gratitude to be receiving such an important award, SAFETYBEST 2022.This award is the recognition of safety and we are earnestly grateful to be evaluated our 5 stars in Euro NCAP by AUTOBEST. Needless to say, safety is one of the most important factors of auto industry and Isuzu will continue our efforts for higher safety not only driver but also society."
COMPANYBEST 2022 : Pininfarina S.p.A
"We are very proud of this award that recognizes our achievements and confirms that we are an international benchmark for the automotive world. The award proves the hard work and passion of our team members, our resilience towards difficulties and new challenges, and, most importantly, our willingness to constantly evolve in order to offer our clients advanced design services and products", declared Silvio Angori, CEO of Pininfarina.
SMARTBEST 2022: Mercedes-Benz MBUX Hyperscreen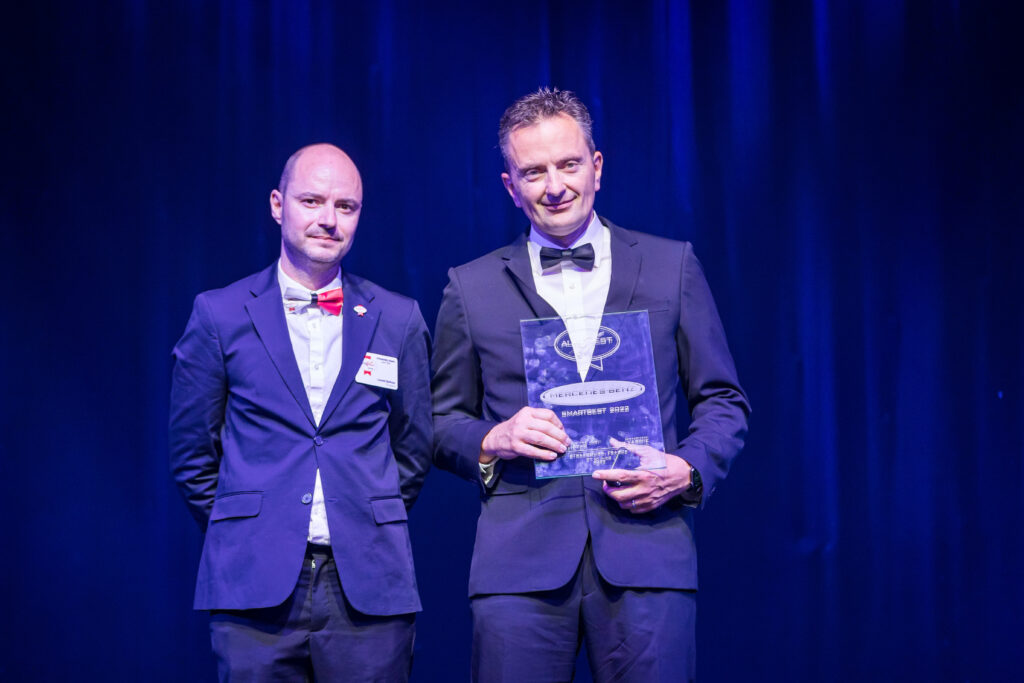 Mr. Michael Klinger, Head of MBUX UI Software, declared during the AUTOBEST Gala 2022 that he is proud to represent a global team in from of the audience. He added that the first feedback from the customers of the EQS and EQE put into light an affinity towards the simplified and intelligent new user interface and that he hopes to see this kind of cars in motorsports, in the future.
SPORTBEST 2022: Alejandro Agag, Founder of ABB FIA Formula E World Championship and Extreme E
M. Alejandro Agag, Founder&CEO Extreme E and Founder&Chairman FiA Formula E & E1 Series stated: "I'm honoured to be receiving the SPORTBEST 2022 award and would like to thank AUTOBEST for this privilege. Back in 2011 when I first came up with the idea of Formula E alongside FIA President Jean Todt, I had no idea of the scale and impact it would have. Now in its eighth season, and the fastest growing motorsport in the world, we are in fantastic position to continue growing the sport and delivering amazing racing for fans. With the birth of Extreme E that focuses on the environmental impact of climate change and off-road racing, it shows that people really enjoying watching electric racing that has a purpose. I firmly believe that both championships have, and will continue to deliver, innovative solutions for the future of mobility."
DESIGNBEST 2022: Walter de Silva
Mr. Walter de Silva was unfortunately unable to participate in the AUTOBEST Gala 2022 but he sent us a statement: "This prestigious award is evidence that an extensive career like mine and that many of my colleagues significantly contributed to the continuous and unstoppable cultural, social and economic evolution of the world. I am confident that once more, designers will be on the frontline of these changes. We are and will be ready to give aesthetic responses to the new demands of the public. Ultimately, we must let ourselves be guided by dreams and in particular by the research of beauty. Actually, the search of the essence of beauty. That which stems from a combination between reason and feelings. That which in an automobile, brings together performance, aerodynamics and elegance, in order to guarantee a true identity to all cars we want to design in the future."
AUTOBEST honoured on stage Mr. Pierre Meyer, the man behind the Kirrwiller Royal Palace and Mireille Dartus, the Director for Strasbourg Convention Bureau.
The AUTOBEST Jury would like to thank to all the representative of the winners of Gala for being present at the Royal Palace taking over the awards. Also, the Jury is extending the appreciation for all the guests coming from more than 31 countries to participate to the special event.
For next year edition of Gala, AUTOBEST is eager to go to Nederland at a date to be announced later.
The live-streaming of the AUTOBEST Gala 2022 can be watched on www.autobest.org official site or on the YouTube Channel of AUTOBEST: https://youtu.be/9QyZRZX94Ro
About AUTOBEST
The AUTOBEST organisation was established in 2001 with the revolutionary concept of "best buy car" available on the European market. A total of 32 European nations is now represented in the Jury, covering the vast majority of the European population. For a car to become an AUTOBEST winner, it must represent the best offering for most European customers. Price, service network, spare parts distribution and versatility are the most important criteria in the voting process. Design and new technologies are becoming important criteria for voting. AUTOBEST uses a transparent voting system, with a complex matrix of 13 criteria to decide the winner.
Contact:
pr@autobest.org