Mr. Louis Schweitzer becomes the new member of the AUTOBEST Hall of Fame;
The next edition of the ECOBEST Challenge is scheduled to take place at the end of June in Vairano, Italy. The project obtained the Bureau Veritas certification;
The AUTOBEST Gala 2024 is set to take place in Luxembourg, at a date to be announced later
The 22nd edition of the AUTOBEST Gala Awards took place on May 11th in Rotterdam, The Netherlands, in a prestigious historical location. The Grote of Sint-Laurenskerk was built between 1449 and 1525 as the city's first all-stone building. Nowadays, it's the only remnant of the medieval city of Rotterdam. This is the first time when the AUTOBEST Gala Awards has been organized in such a breathtaking and historically charged location: a medieval cathedral that took the test of time, towering over the city center of Rotterdam for hundreds of years.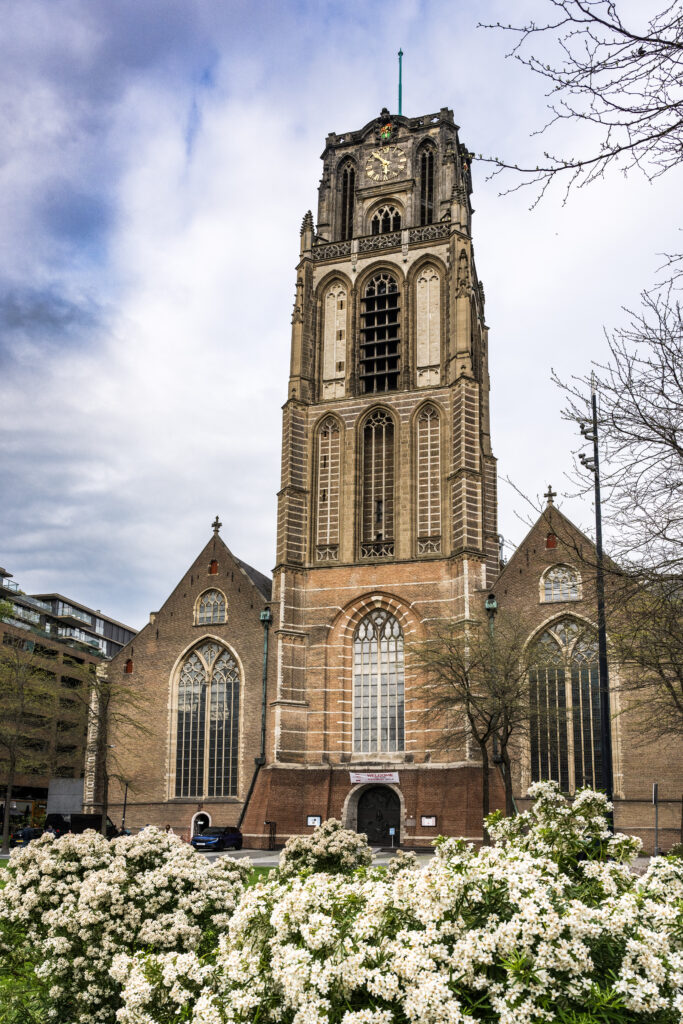 During the Gala Awards, the prestigious guests, one of the most influential personalities in the automotive industry worldwide, enjoyed a spectacular and inspiring organ recital, played by the talented Hayo Boerema, composer and titular organist of the Marcussen organ in the St Laurence Church at Rotterdam. Magnificent music pieces echoed inside the historical church's walls, right out of the ca 7600 pipes of the impressive organ.
Dan Vardie, Founder and Chairman of AUTOBEST said:" This year we chose the Grote of Sint-Laurenskerk, probably the most important symbol of the city of Rotterdam, as venue for the AUTOBEST Gala.This is a premiere for AUTOBEST, because in our 22 years history we never organized the AUTOBEST Gala in a church! We delivered a completly new show and unique atmosphere creating together with the talented Hayo Boerema a mobility related playlist with pieces of music played during modern live organ concert."
On stage, receiving the supreme European accolade, Best Buy Car of Europe, for the Renault Austral, Bruno Vanel – VP, Renault Brand Product Performance declared:" On behalf of Fabrice Cambolive, the Renault brand CEO, all the Renault Group, and the Renault brand members – it's really a great honor for all of us to be awarded this very prestigious trophy. We are extremely proud as AUTOBEST is rewarding not only the best car but also infotainment, safety, low cost of usage, and technology. We take it as an award recognizing all the Renault people, all the Renault team, who dedicated all their work and commitment to making this project possible".
One of the crucial moments of the event was the induction of a new legendary personality into the AUTOBEST Hall of Fame, Mr. Louis Schweitzer. "I am very proud to be accepted into this Hall of Fame, and I am very grateful to Dan and the jury for considering I was worth it. I'm very happy that this evening I'm honored at the same time as Dacia is honored and at the same time as Renault is honored, and also at the same time that former members of Renault have received awards. I would also want to say that I had tremendously enjoyed my time at Renault. The people at Renault were fascinating to work with, and Renault is a company that always accepts challenges and is able to think outside the box."
During the Gala, the AUTOBEST organization announced that after last year's highly successful edition, the ECOBEST Challenge 2023 will retake place in Vairano, Italy, at the end of June. For this new edition, and for the third time in a row, the project's partner is VinFast, the emerging Vietnamese EV producer. The logistical and technical support will be again assured by the Italian car publication Quattroruote. One of the novelties of the 2023 edition is that Ecobest Challenge obtained the Bureau Veritas certification, a world recognition of the genuine, comprehensive, and innovative methodology of testing EVs and a result of hard work and the unbuyest approach for getting real traffic, real-life green credentials of EVs.
The other prizes that were awarded during the ceremony were:
COMPANYBEST 2023: Dacia
Xavier Martinet, SVP, Dacia, Marketing, Sales & Operations, declared: "How fitting to get this prize tonight in the presence of Mr. Louis Schweitzer, who had the vision to buy the Dacia brand 24 years ago. The company kept working on the brand, seizing the potential. I will quote another illustrious successor of Mr. Schweitzer, Mr. de Meo: "We'll separate the brands" – it's something that in the Renault Group we never did in the past. Everybody was managing the brand together. He told us it might sound like a weird idea to you, but I promise you, you will be able to unleash the brand's potential to a level you cannot even imagine. Two and a half years later, when we look at the results, that was a grand vision from Mr. Luca de Meo. Thank you very much for this award on behalf of everyone. We are delighted about that!"
Denis Le Vot, Executive Vice President, CEO, Dacia Brand also sent a video message regarding the COMPANY 2023 award. You can watch it here:
ECOBEST 2023: Hyundai Ioniq 6
J.P. Lee, President of Hyundai Motor Nederland said: "On behalf of Hyundai Motor company and Hyundai Motor Europe, we are proud and honored to receiving this prestigious award of Autobest 2023. Ideed, electrification is a mega trend of the future, as mentioned by Mr. Dan Vardie. We are pround of Ioniq 6, the most enerngy efficient electric car in the segment, leading to 640 km of driving range"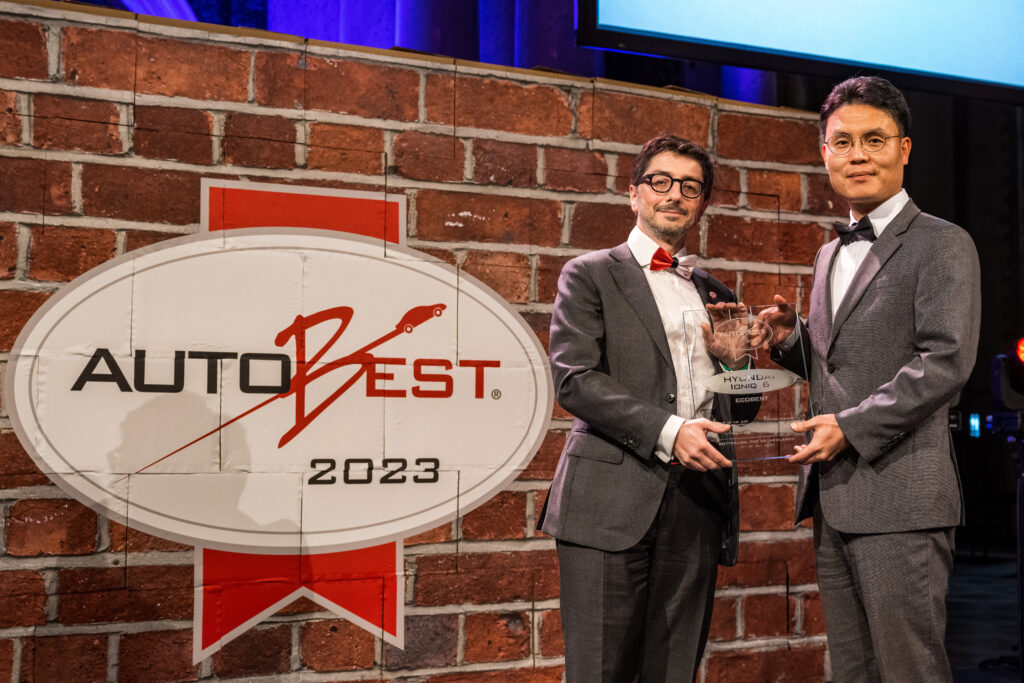 Michael Cole, President and CEO Hyundai Motor sent a video message regarding the ECOBEST 2023 award. You can watch it below:
MANBEST 2023 Hall of Fame: Artur Martins, Global Brand & CX Division, CBO & CXO of Kia
Artur Martins, Global Brand & CX Division, CBO & CXO of Kia said: " With great pride and gratitude, I accept the MANBEST Hall of Fame award, a distinction that holds a very special place for me. Being recognized this way after 25 years of dedication to the car industry is a humbling experience. I am grateful beyond words for this honor, which acknowledges my achievements and the dedication and support of those who have helped me along the way. "
Watch the entire message of Artur Martins, Global Brand & CX Division, CBO & CXO of Kia:
DESIGNBEST 2023 Hall of Fame: Jean-Pierre Ploué, Chief Design Officer of Stellantis
Jean-Pierre Ploué, Chief Design Officer of Stellantis declared: "Thank you for this DESIGNBEST Award, which means a lot for me, and which allow me to step back for a moment on my career, which is not over yet! When I started as a designer, France was not considered as a well-known country for its automotive design and there was no specific automotive education training as there was elsewhere as England, Germany, the United States or Japan. Today, French automotive design is recognized on the international scene. I hope, with my peers, to have contributed a little bit to this. I am a lucky man, I have never had the feeling of working because I still live my passion as intensely I did at the beginning. Thanks again to all and thanks to the AUTOBEST Jury for this award."
Watch the entire message of Jean-Pierre Ploué, Chief Design Officer of Stellantis:
During the Gala, Bertrand Blaise, Chief Communication & CSR Officer of Stellantis received the award on behalf of Jean-Pierre Ploué, Chief Design Officer of Stellantis
SMARTBEST 2023: Renault Austral Android Automotive OS with embedded Google services
Arnaud Belloni, Global Chief Marketing Officer Renault declared: "In the name of Renault, I would like to thank all jury members. The OpenR system is a revolution – it has three main benefits: a real-time Google Maps system, voice control, which permits you to interact with the car while you are driving, and the Google store, which allows you to put apps in the car. In each country, we develop very specific apps which give either information, either podcast, either music, or either gaming because there's no limit when you work with that kind of system. Thank you, AUTOBEST!"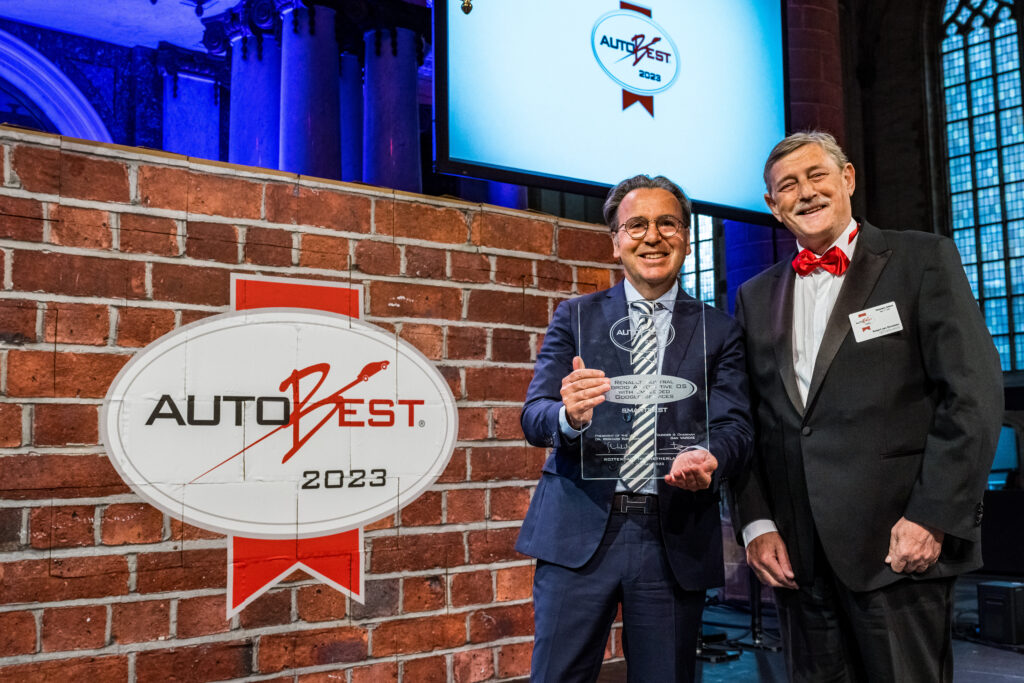 SAFETYBEST 2023: Lidar system of Valeo
Clément Nouvel, LiDAR CTO, Valeo declared: "On behalf of Valeo, I want to thank you very much for this award and express how proud we are to receive it, as it recognizes several things that are very dear to our hearts. Valeo invested in Lidar more than ten years ago, and it has been a long journey developing several generations of Lidars. This time we are rolling out our third generation of Lidar, which is going to make sure that you can drive safely and autonomously at high speed."
SPORTBEST 2023: Jutta Kleinschmidt
Jutta Kleinschmidt declared: "I feel very honored to receive your prize today for my career as a sportsman. This prize is super important to me, especially because I know it has existed already for 22 years and that the jury is the largest motor press jury in Europe, and that gender equality and performance are important. Thank you so much for this award!"
Watch the entire message of Jutta Kleinschmidt:
The AUTOBEST Jury would like to thank the distinguished guests present at The Grote of Sint-Laurenskerk in Rotterdam for the 22nd edition of the AUTOBEST Gala: representatives of the winners of the Gala and personalities of the international automotive industry.
For next year's edition of the Gala, AUTOBEST is eager to go to Luxembourg at a date to be announced later.
The live-streaming of the AUTOBEST Gala 2023 can be watched on www.autobest.org official site or on the YouTube Channel of AUTOBEST: https://youtu.be/9QyZRZX94Ro
About AUTOBEST
The AUTOBEST organisation was created in 2001 with the revolutionary concept of finding the 'Best Buy Car' available on the European market. AUTOBEST is the biggest independent motoring Jury in Europe, with top journalists representing 32 countries, of which Russia is suspended for the time being.
For a car to become an AUTOBEST winner, it must represent the best offer for most European customers. Price, service network, spare parts distribution and versatility are the most important criteria in the voting process. Design and new technologies are also becoming a more critical factor for voting. AUTOBEST uses a transparent voting system, with a complex matrix of 13 criteria to decide the winner.
Contact: pr@autobest.org